🇺🇸 Veteran Owned | Built by hand in Texas | USA Manufactured Since 1999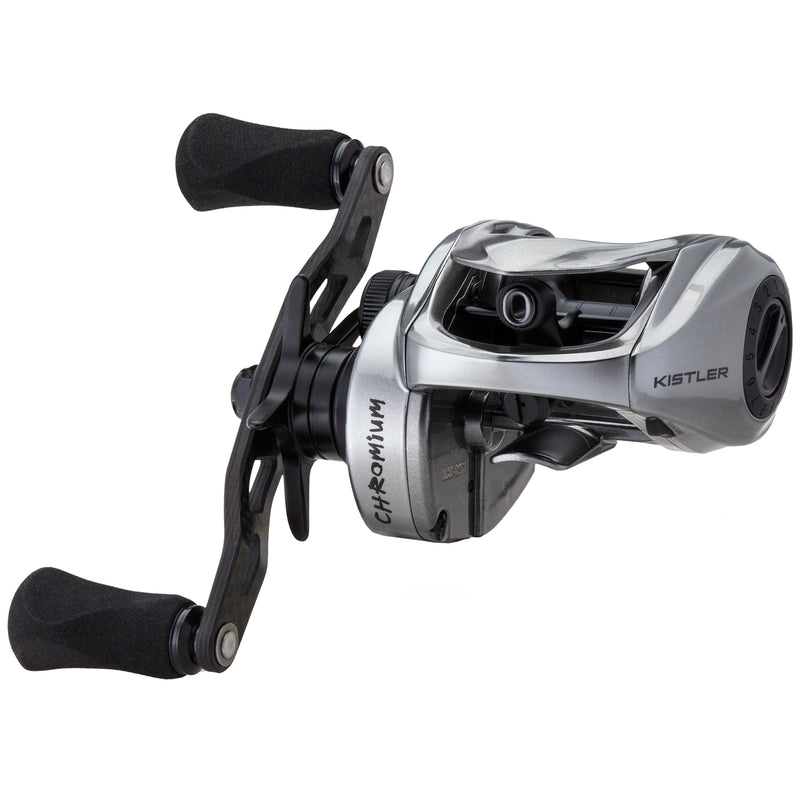 Featured Product
Chromium Casting Fishing Reel
Crafted For Performance
The new Chromium reel is built to last and built for real on-the-water performance fishing. We've taken what might fail or under-perform in a reel then we fixed it. Using high-quality and expert performance materials where they matter most, we've given the new Chromium long-term value. The Chromium is strong where you need it to be, light enough to pair with any Kistler rod, and may just last you a lifetime. 
Shop Now
THE KISTLER DIFFERENCE
Sensitivity
World renowned, mind-blowingly lightweight rods that help you feel everything. When you feel more, you catch more.
SERVICE
Customer care is our priority. From the time of your order till it gets to your door and beyond. We're here to help.
DESIGN DETAIL
We're meticulously obsessed with the small things so that every rod or reel you get beats your expectations.
EXPERTISE
We're expert rod builders with decades of combined experience. We know what helps you catch more and bigger fish.
BUILT BY HAND IN TEXAS
Born in a Texas garage, every Kistler rod is built by hand in Magnolia, TX.
Hold Something Special
KISTLER has partnered with multiple elite carbon factories across the globe. These well-established carbon experts have exceeded Trey Kistler's demands for excellence in terms of quality control, consistent actions and power as well as durability.
KISTLER is now providing carbon blanks that we believe are the best in the business, period. For KISTLER and for our customers, it is an evolution into a better technology than ever before.
Trey Kistler's 28 years of experience has enabled KISTLER to provide our customers with the most advanced designs and engineered carbon blanks that will certainly increase the cast to catch ratio for every level angler. The proprietary 45 degree angle overlay construction using 100% Japanese carbon by Toray has enhanced the performance of KISTLER Carbon Blanks making them noticeably lighter weight and noticeably more sensitive. This is an evolution that offers our customers better rod technology, better fishing, and a better warranty – the
KISTLER Bend Strong 5 Year Warranty
on every rod series. KISTLER has made the choice to make the best rod on the market.
About Kistler
For Conservation
Since 1999, Kistler Rods has given over $701,000 toward conservation efforts nation wide. Every Rod or Reel purchase gets us closer to our goal of $1,000,000 given to conservation since 1999.
Giving Back To Conservation
Faith
Our faith in God influences all that we do, as a business and as individuals. We treat people and nature with respect. We live every day with kindness and strive to be the best versions of ourselves. We have limited time here, and we want to spend it living in service of others (and get some fishing in, too).
Family
Family is everything to us. The family that raised us taught us how to fish. How to work hard and follow our own path. Our family, the one we made for ourselves, is the reason why we work hard every day. The fishing community is part of our big family. And we always take care of those who take care of us.
Excellence
Maybe it's the time our founder spent in the military. Maybe it's just how we were raised or how we are wired. But whatever we make, whatever we do, we want it to be the best. We are obsessed with craft. Dedicated to reinvention. We love the pursuit of excellence, in life and in fishing.
Respect
The world just works better when people treat one another with mutual respect. It requires listening, understanding, kindness and communication. We begin every conversation with respect. Especially with our customers. They respected us, trusted us, enough to spend their hard-earned money on our product. We respect their loyalty by standing by our rods and reels.
Order today, Ship Today
Orders ship within 24 hours | Applies to all in stock products
The Kistler lineup
Simple Breakdown of Every Kistler Rod Series
Series
Description
Price
Customer Rating
Lengths
Powers
Guides
Handle Type
Reel Seat
Built by hand in Texas
Blank
Warranty
The "Time To Up Your Fishing Game" Rod
$200

★ ★ ★ ★ ★

6'9" - 7'6"
1-6
Kigan Stainless
Cork Grade "B" w/ foam butt
Fuji Graphite
Yes
KISTLER KC7 100% Japanese Carbon by Toray
5 years

The "All Purpose Hybrid" Rod
$300

★ ★ ★ ★ ★

6'9" - 7'6"
MED, MH
Kigan Stainless
Grade "A" Cork Palm Swell
Fuji Graphite
Yes
KISTLER KC7S S-glass and Carbon by Toray
5 years

The "Professional Standard" Rod
$300

★ ★ ★ ★ ★

6'9" - 7'6"
1-6
Kigan Stainless
Grade "A" Cork Palm Swell
Fuji Graphite
Yes
KISTLER KC8 100% Japanese Carbon by Toray
5 years

The "Carbon Fiber Special" Rod
$350

★ ★ ★ ★ ★

6'10" - 7'6"
1-6
Kigan Stainless
100% Carbon "Ultra Touch" Grip Feel
Fuji Graphite
Yes
KISTLER KC8+ 100% Japanese Carbon by Toray
5 years

The "Lighter Than Air" Rod
$400

★ ★ ★ ★ ★

6'9" - 7'6"
1-6
Fuji Corrosion Control
Grade "A" Cork Tapered
Fuji Graphite
Yes
KISTLER KC9 100% Japanese Carbon by Toray
5 years