Description
Specs
Reviews
Description
Crafted For Performance
After the release of the 2023 Bestseller Kistler Chromium Baitcasting 100 and 200 Series, our number one goal remains… to put the Kistler Customer first. Back then we made a promise to only manufacture better performing and longer lasting reels, minimize potential component failure, and ignore the pressures of "Market Trend" and "Bottom Line".

As we gear up for the release of the second and third addition to the Kistler Chromium Fishing Reel Series, I am confident that we have continued to deliver on that initial promise with the development of the Kistler Chromium CRSP-2561 for those who require lower Line Retrieval Rates (32" IPT) and higher Torque and the CRSP-2572 for those who require Higher Line Retrieval Rates (38" IPT) and lower Torque.
Origin China
Specs
| | |
| --- | --- |
| Retrieve | Left/Right |
| Size | 2500 |
| Gear Ratio | 6.1:1 |
Reviews
FAQ | 100% Purchase Protection
WARRANTY

The Chromium Spinning reel comes with Kistler's 1 Year Free Replacement Limited Manufacturer's Warranty. Read More
REPAIRS AND SERVICING

All Kistler Reels can be serviced or repaired for many years to come by our Factor Authorized Repair Center in Austin, TX. We maintain a heavy stock of spare parts for all Kistler Reels.

Need a repair or service or have a warranty issue? Fill out the warranty claim form.
FREE RETURNS

Cast your Kistler! Use your product or try on your apparel. Get out and fish with your rod or reel for an entire day. If you're not satisfied, we want to make it right with a FREE return or exchange. Read More.
FAST SHIPPING

All reels are shipped FAST in a sturdy cardboard box for $9.95. Read More.
HOW DOES IT HOLD UP IN SALTWATER?

The Chromium Spinning Reel Not only is optimized for, but excels in Saltwater applications!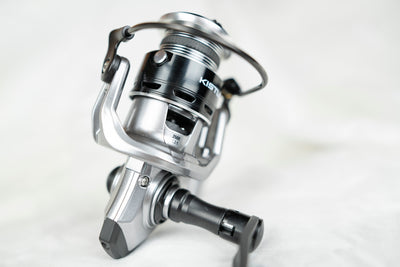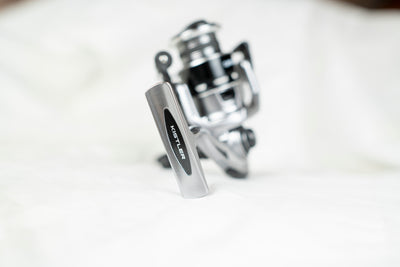 Meet Beau
Kistler's Chief Reel Engineer, Beau Reed, is a master in fishing reel repairs and engineering. He's a Veteran (Marines), been married 17 years, and lives in Austin, TX. Beau has extensive experience in repair and upgrades on most US and Japanese reels over the past 75 years. He's a drag washer and bearing upgrade specialist since 2012, where he sparked the prominence of Boca Bearing within the Fishing Industry. In 2020, Beau created a Special Order Parts Engineering and Manufacturing Department, modeled to only manufacture the World's Strongest Fishing Reel Parts. He's an 8-year contributor on AM Radio shows The Great Outdoors and The Sunday Sportsman.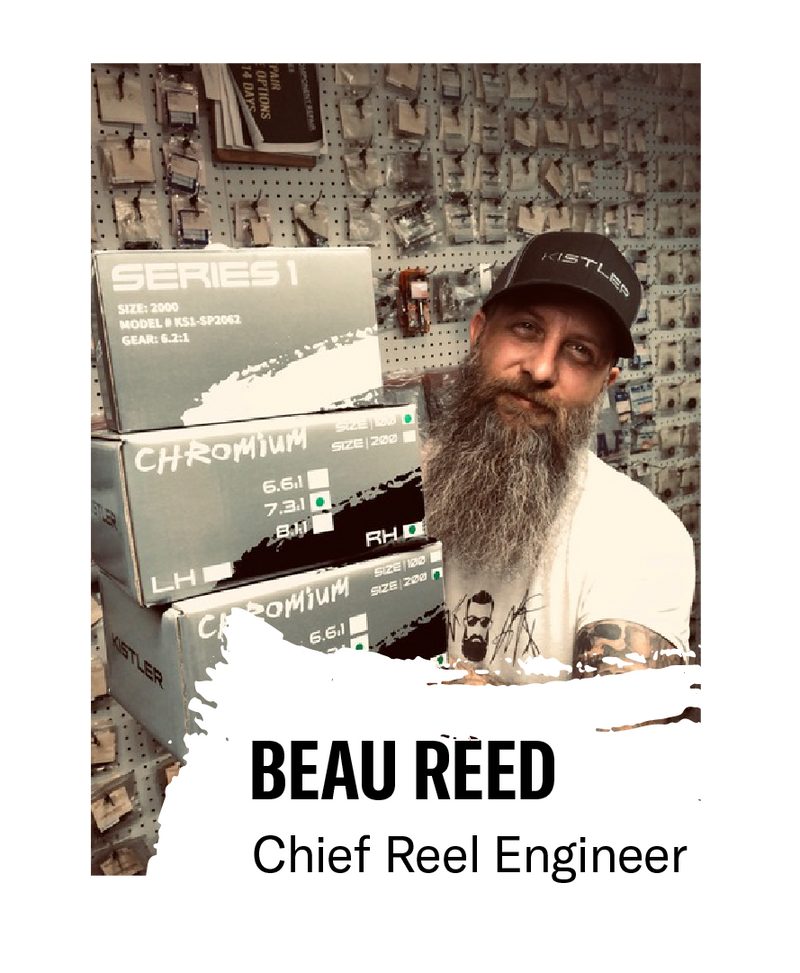 WHY CHROMIUM?
LEVELED UP
While many manufacturers offer Spinning Reels in 6-10+ different sizes, they typically still have the same Gear Ratios throughout, and to gain more "Inches Per Turn (IPT)" Users have traditionally had to buy another larger heavier reel size. Here at Kistler we wanted to take a different approach by offering the fabulously popular 2500 Sized Chromium Spinning Reel Models, in two different Gear Ratios. This approach allows technique-specific Users to gain more "Inches Per Turn (IPT)" without the need to purchase a larger heavier reel. 
In our effort to deliver a Product Line fit for a King, Queen, and everything in between, we would like to introduce the CRSP-2561 as one of the most WATER RESISTANT and the CRSP-2572 as one of the fastest, most WATER RESISTANT Freshwater to Inshore Saltwater Cross-Over Spinning Reels to ever make its way to the Market. In many ways the CRSP-2572, and CRSP-2561, exemplify what most manufacturers have been unable or unwilling to supply…undeniable Substance over Style. 
These durable and compact next generation Kistler Spinning Reels come to you in rare form and we continue to believe that we've packed as much performance, strength, durability, and support into the lightest, most cost-effective packages possible.
In the beginning, we focused on comparability, as in, "Is what we're attempting to deliver, been delivered, or already being delivered?" We looked at a number of characteristics such as Performance, Durability, Size, Gear Ratio, Price, WATER RESISTANCE features, Bearing Count, Max Drag, Line Retrieval Rate, and Weight in products already being delivered by other Manufacturers. We found that in almost all cases we could land the SEALED Kistler Chromium CRSP-2572 and CRSP-2561 on almost all of the "Best Of" Lists with the exception of "Heaviest Duty" and "Lightest Weight", of which weren't a part of our primary goals to begin with. 
WATER RESISTANCE
The SEALED Chromium Spinning Reels have been designed to be an excellent Freshwater to Inshore Saltwater, WATER RESISTANT Cross-Over, Left Hand/Right Hand Capable Product Line. In many cases, when a consumer is looking to purchase a Spinning Reel, they are looking for three things, Price, Performance, and Durability. As we all know, to deliver long term Performance and Durability, it requires attention to be paid to many different aspects in the construction of a fishing reel. 
To honestly deliver a Freshwater to Inshore Saltwater Capable Product Line, WATER RESISTANCE had to be a big part of the vision, so we utilized Closed Face Anodized Aluminum "Braid-Ready" Spools to limit water and debris access through the Rotors, strong Carbon Reinforced Nylon Frames to limit potential Corrosion and Rust Build-up, and strategically positioned additional POM Bushings to support the FULLY SEALED Main Drive Gear Saltwater Bearings with removable Side Shields to decrease distortion potential and increase Overall Rigidity, Hollow Stainless Steel Bail Wires to minimize weight, increase durability,reduce the need for a Weights to Counterbalance the Rotors, durable Titanium-Coated Hardened Brass Line Rollers to increase their performance, durability, heat resistance, and further limit Corrosion and Rust Build Up, 6 WATER RESISTANT SEALS, and 4 FULLY SEALED WATER RESISTANT Saltwater Bearings with removable Side Shields to SEAL up the Carbon Fiber Drag Stacks, Clutch Boxes, and Gear Boxes as much as possible.
TECHINICAL DETAILS
Weight
In a world of "SEALED" Saltwater Capable Reels, you'll find that our 8.8 oz Chromium Spinning Reel Product Line stands on its own merits when many of our actually SEALED competitors come in weighing equal to or more than the CRSP-2572 and CRSP-2561 and often times with fewer WATER RESISTANCE features.
Gear Ratio/Line Retrieval Rate
While most of the industry standard traditionally tops out at 6.2:1 and below, you'll find that our 7.2:1 Chromium CRSP-2572 allows for a faster Line Retrieval Rate, of 38" per turn, while the 6.1:1 Chromium CRSP-2561 has a Line Retrieval Rate of 32" per turn.
Drag Knob Assembly
We decided to increase the WATER RESISTANCE, strength and durability of our Drag Knob Assemblies by utilizing Brass Drag Nuts housed in Carbon Reinforced Nylon and Stainless Steel Housings, while simultaneously pairing them with Rubber 360 Degree Fitted SEALS. We did this to improve the WATER RESISTANCE of the Drag Stack Cavities, limit breakage, and increase the amount of applied tension possible.
Spool Shaft
We utilized Stainless Steel to ensure rigidity and long term durability, and to decrease the potential for pitting from corrosion and potential distortion. To further increase operational efficiency and stabilization we even made sure to support the Spool Shafts with rare dual-supported Oscillation Sliders, each with an additional 3x6x2 Micro Bearing for smoother performance.
Drag Washer System
We introduced rubber 360 Degree fitted SEALS between the Drag Knobs and the 3pc Floating Carbon Fiber Drag Stack Cavities with Stainless Steel Spacers, and an Audible Stainless Steel Drag Click System all to limit the potential for Drag System Failure, maintain Drag Consistency, and reduce potential failure due to Rust and Corrosion. 
Spool
We chose to utilize Closed Faced "Braid Ready'' Anodized Aluminum Spools, with SEALS (as mentioned above) to protect the Carbon Fiber Drag Stack Cavities, by restricting access to damaging elements such as saltwater to increase corrosion resistance, therefore increasing the lifespan of the Carbon Fiber Drag Washers and Stainless Steel Spacers contained within. 
Braid Capacity
for the CRSP-2572 and CRSP-2561 "Braid Ready" Spool are as follows: 10lb/.15mm @130yds, 20lb/.23mm @90yds, 30lb/.28mm @80yds
Bail Wire
We chose to utilize Graphite Rotor Brackets and Hollow Stainless Steel Bail Wires to increase the strength and durability of the entire automatic Bail Wire Trip System. By introducing these particular Bail Wires and Rotor Brackets we were able to maintain rigidity and balance the strong Carbon Reinforced Nylon Rotors without the necessity for additional counterbalance weighting system components commonly subjected to wear, tear, and potential failure.
Line Roller Parts Group
At first glance you might not notice, but we increased the strength and durability, for superior performance by introducing a Titanium-Coated, Hardened Brass Line Roller. The use of machined Aluminum is generally quite common across manufacturers, but are more susceptible to damage than the Hardened Brass of our Chromium Spinning Reel Product Line. What's not so common is going the extra distance with a Titanium Coating to further harden and protect this part. By adding this Coating we further protect the long term smoothness, but we also increase the lifespan by increasing its resistance to wear, tear, heat, corrosion, and rust. We keep it all running smooth on a better protected, easily accessible 4x7x2.5 Stainless Steel Bearing. 
Pinion/Rotor Retainer Nut
To complement the durable, corrosion resistant, Brass Pinion Gears, we decided to pair them with Brass Rotor Retainer Nuts to maintain overall and synergistic Thread Strength, while increasing long term durability to maintain consistent fixed tension on the balanced Carbon Reinforced Nylon Rotors. To make sure they're all retained in a fixed position, we utilized Fixed Stainless Steel Rotor Nut Retainer Systems to increase strength and reduce the ability of the Rotor Nuts from working itself loose, which ultimately increases the lifespan of the entire Parts Group.
Clutch Box
Under the Carbon Reinforced Nylon Rotors we have done a lot to increase the durability and lifespan of the Clutch Boxes and their Internal Components. To begin with, we added Rubber Bearing Sleeves directly underneath the Rotors to aid our WATER RESISTANCE features such as the FULLY SEALED Stainless Steel 7x14x4 Saltwater Bearing with removable Side Shields that they house and protect. Below that you will find an "Anti-Reverse Only" 17x12 Roller Bearing Clutch and Sleeve System (ARO). By eliminating the generally useless Anti-Reverse Switch Systems we continue to reduce access to damaging elements and the amount of Components that are subject to common wear, tear, and potential failure. Directly below the ARO Clutch Systems, you will find another FULLY SEALED Stainless Steel 7x14x4 Saltwater Bearing with removable Side Shields to even further restrict access to damaging elements such as saltwater and aid in the stabilization of the Pinion Gear. Because the Clutch Boxes technically can allow access to the Gear Boxes, it becomes necessary to SEAL them up as much as possible to limit damaging elements from making their way through.
Frame/Gear Box
To begin, I'd like to take a moment to recognize just the amount of WATER RESISTANCE features we have built into this Spinning Reel Product Line to SEAL the Gear Boxes as much as possible. By going this extra distance we create a longer lasting reel for Kistler Chromium Owners.
Handle Assembly
Finally we decided to power the whole Spinning Reel Product Line with Gear-Direct Connected Woven Carbon Fiber Cranking Handles, Aluminum Crank Spacers, and comfy yet durable EVA Handle Knob supported by 2 conveniently accessible Stainless Steel 4x7x2.5 Bearings to maintain performance.
PREMIUM COMPONENTS
Line Retrieve
CRSP-2561 32" per turn, CRSP-2572 38" per turn

Bearing Count
9+1 ARO Suspended Clutch System
Overall Weight: 8.8oz

Strong, Lightweight Reel Frame
1pc Carbon Reinforced Nylon

Water-Resistant Gear Box
(4) Fitted 360* Rubber Seals
(2) Fully Sealed Saltwater Bearings
(2) Additional Bushings for increased rigidity

Comfy Handle Knob
EVA with (2) Micro Bearings for increased performance

Direct-Connect Handle
Woven Carbon Fiber Arm
Connects Directly to the Main Drive Gear

Oscillation Efficiency
(3) Slider Stabilizing Points Of Contact
(2) Micro Bearings to enhance performance

Water-Resistant Clutch Box
(1) Fitted 360* Rubber Bearing Sleeve
(2) Fully Sealed Saltwater Bearings
(1) Suspended Anti-Reverse Only Clutch System

Next-Generation Clutch System
Anti-Reverse Only (ARO)
A/R Switch System Removed to increased water resistance
Clutch System is suspended for longer lasting performance
Strong Balanced Rotor
Carbon Reinforced Nylon
Fixed Stainless Steel and Brass Retainment System

Smart Bail Wire
Hollow, Stainless Steel to balance the Rotor, increase durability,
and reduce overall weight.

Excellent Spool
Saltwater Capable
Braid Ready
Anodized

Sealed Drag Stack Cavity
(1) Fitted 360* Rubber Seal

Smart Drag Knob
Sleek Exterior to prevent any Line Snag
Carbon Reinforced Nylon and Stainless Steel Housing
Brass Drag Nut

Strong Spool Shaft
Stainless Steel to reduce Wear, Tear, and Distortion.

Audible Drag Click System
Stainless Steel Sub-Components for long lasting performance

Strong Line Roller Parts Group
Hardened Brass Line Roller, with Titanium Coating
Supported by a Micro Bearing